May 9 – End of Tour Rally
Matt and the team were Joined by Mike Schreiner in Bracebridge for an end the tour rally. –
So honoured to work alongside Mike Schreiner and the Ontario Greens. As Mike said, our plans are to implement real solutions to make life more caring, affordable, and healthy!!! Thank you for your support tonight Parry Sound – Muskoka!!!!
---
May 3, 2022 – Let's kick off the 2022 campaign period in style!
Thousands of door and phone calls later, the official start to the 2022 Provincial Election campaign is here!
The momentum behind our campaign is not like anything we have ever seen before. Our team of committed volunteers has been knocking on doors and making phone calls since October, and over and over again we hear the desire for new leadership in Parry Sound – Muskoka: Leadership that will take concrete steps to protect the people and places we love. Leadership that will put partisanship aside and takes real action to address the housing crisis, and the climate crisis, and make life more affordable for everyone.
The leadership we need.
Join Matt and Mike Schreiner for the Official Campaign Kick-Off Tuesday, May 3rd, 2022
Campaign Kick-Off
When: Tuesday, May 3rd, 2022
Where: Algonquin Theater, Huntsville
Time: Doors open @ 5:30, Starts @ 6pm

Wear green, bring a friend, and come pick up your sign and help us show the people of Parry Sound- Muskoka how we are the campaign to beat on June 2nd!
April 19 – Mike Schreiner will be in Parry Sound
Watch for Parry Sound – Muskoka Green Candidate Matt Richter and Ontario Greens Leader Mike Schreiner in Parry Sound tomorrow – Tuesday April 19. We want to hear from you, be sure to say hello and tell us what is on your mind going into this election!
---
Matt Richter Call for Funding to Build the Next Generation of Hospitals in Bracebridge and Huntsville
April 7, 2022
Matt Richter, MPP candidate for Parry Sound – Muskoka in the 2022 election,
is calling on the provincial government to finally commit the money to build the hospitals Bracebridge and Huntsville so desperately need. "We are calling on the Ford government to stop playing politics with our healthcare. After a two-and-a-half year wait, the time is now to commit the funding to our hospitals in Huntsville and Bracebridge," says Richter.
Muskoka Algonquin Healthcare has been waiting since the fall of 2019 for a response from the provincial government regarding funding for its two new hospitals. The plans for the two new hospitals have been in the works since 2012 with a target completion date of 2036 for both sites.
"We're seeing funding announcements for hospitals coming down across the province, but where is the fairness for communities?" said Matt Richter. "The pandemic has shown us that chronic underfunding in healthcare impacts our whole economy. Let's get the hospitals built and get the people of Muskoka what they deserve"
---
April 2, 2022
Townhall with Mike Schreiner
Mike Schreiner, leader of the Ontario Greens, is coming back to Parry Sound – Muskoka! Join Mike Schreiner and Matt Richter for a Townhall event, Saturday, April 2nd, 2022 in Bracebridge from 1- 2:30 pm. Hear about what Mike has accomplished during his first term as Ontario's first Green MPP and hear how he has been a champion for his riding and has pushed the needle on many issues we care about. Learn what one MPP can do for you and why Parry Sound – Muskoka should join Guelph in sending another Green MPP to Queens Park!
When: Saturday, April 2nd, 2022
Where: Bracebridge Sportsplex AuditoriumTime: 1pm – 2:30pm
Want to make your support go even further? Join Mike, Matt, and our fantastic volunteers for a foot cavass before and after the town hall! Let's paint Bracebridge Green!!
Let's show Mike Schreiner that Parry Sound – Muskoka has the best organized Green campaign in Ontario. In November, we wowed Mike and the Ontario Greens by having over 35 volunteers join us on a very cold day in Bracebridge. Let's show him how much we've grown since his last visit! and how much we can accomplish with some warmer weather!
We will meet at the Sportsplex at 9:45 am and will canvass from 10 am to 12:30 pm and then we will head out again after the town hall. Lunch will be provided for canvassers before the town hall.
Sign me up for a morning canvass! 10am – 12:30 pm
Sign me up for an afternoon canvass! 2:30pm – 5pm

We are looking forward to seeing you out for a great day!
---
March 5, 2022
Campaign Office Open house
What a wonderful turnout to the Open House and Super Saturday canvassing event this weekend!
We would like to send a huge thank you to all of our campaign team, volunteers, supporters, and everyone who came out to say hello! Our team has worked tirelessly to develop this Campaign Office to give us the opportunity to hear directly from people about the issues that matter most to them!
Come by and talk to Matt and this great team any time about what concerns you, the people of Parry Sound Muskoka!
---
February 5, 2022
Parry Sound-Muskoka Greens were joined by Ontario Greens Leader, Mike Schreiner.
With only 125 days left until the next election, Greens across the province will be out talking directly with voters for our first province-wide day of action! Matt Richter and the Parry Sound-Muskoka Greens will be joined by Ontario Greens Leader, Mike Schreiner, as they reach out and listen to voters talk about the issues that mean the most to them.
We will be having teams of volunteers in Gravenhurst, Bracebridge, Parry Sound, and Huntsville knocking on doors from 10 am to 12 pm. This will be followed by a virtual Volunteer Appreciation trivia and Q&A opportunity on zoom from 1:30 pm to 3 pm.
Join Matt Richter and Mike Schreiner as they knock on doors in Parry Sound- Muskoka and then warm up by joining our virtual Trivia. Bring your knowledge and questions!
First-time canvassers will be given training and paired with an experienced canvasser. We have a protocol in place to protect our volunteers and all canvassers must comply with the GPO Vaccination policy.
Not sure about foot canvassing yet, and want to hear more about other volunteer opportunities? Click learn more and our Volunteer Coordinator, Linda, would be happy to talk to you!
Nov 27 ,2021
It's always great to have Mike Schreiner visit Parry Sound-Muskoka and today was no exception! We had a great team out today knocking on doors with Matt Richter in Bracebridge.
We talked directly to voters about the issues that matter most to them! Mike and Matt talked with the team about the GPO Housing Plan and the Ontario Green's common-sense solutions to the affordable housing crisis. Our movement is growing – lean more at mattrichter.ca
---
November 16th
In the past month since I've come on board, Matt Richter and the Parry Sound Muskoka Greens have made incredible progress. We've been canvassing and calling into towns and areas all over the ridding, reaching over 2000 voters in the last month alone.
This is incredible.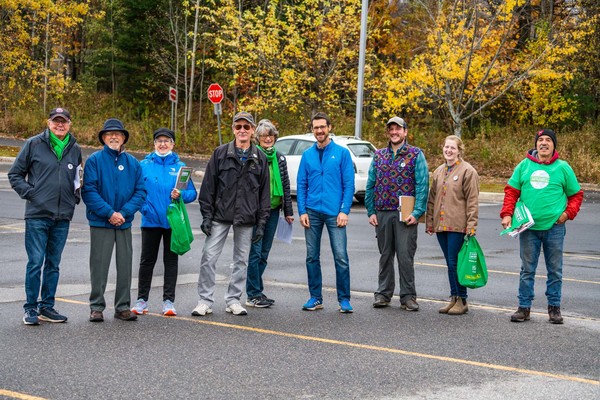 In my experience working on Mike Schreiner and Mike Morrice's campaigns, as well as the many other successful Green campaigns around the country, we've learned that Greens need to do more than have good ideas and good work. We have to prove we can win.
And we CAN win.
This is the best shot the Greens have had in years. Without an incumbent, the opportunity to elect a progressive MPP who will hold any government accountable on issues such as climate change, affordable housing, and small business support, is within reach. This is our moment. We are ready to do the work.
But we can't do it alone. We need your help.
We have committed to reaching every voter in the riding before election day. We will be knocking on doors regularly and have been hosting calling parties and we will continue those through to election day.
Join our movement and together, let's make history by electing Matt Richter as our next MPP for Parry-Sound Muskoka!

Maureen Balsillie
maureenbalsillie@gpo.ca
Campaign Manager, Matt Richter for Parry Sound – Muskoka 2022
---
October 2021
Big News from the Matt Richter Campaign!
We are excited to welcome campaign manager Maureen Balsillie to our team.
We already have an amazing candidate, Matt Richter, for Parry Sound Muskoka MPP. Now we have an outstanding campaign manager too.
Maureen Balsillie joins our team with experience, expertise, and a genuine passion to elect Matt Richter on June 2, 2022. She worked on Mike Schreiner's historic campaign in 2018 and also for Mike Morrice, recently elected federally in Kitchener Centre. Maureen knows what it takes to win, and she has a plan for how to do it.
What is the key to her plan? You.
Our team of volunteers and supporters will work the front lines connecting with voters and networking in the back rooms to turn out a movement behind Matt's run for office. These 231 days will pass in a blink. With your help, we can make sure that a candidate is elected who actually shares our green values of preserving and restoring natural spaces, creating more affordable housing, and addressing our transportation future.
Your volunteer time is valuable. Invite a friend and double your impact. We will out-hustle the opposition and let people in Parry Sound Muskoka know that Matt listens, that their issues are Matt's issues, and that we no longer have to settle for the same politicians and the same old results. With no time to waste, we invite you to participate in our Fall schedule.
Please note: Green Party of Ontario policy now states all persons attending an event or activity in-person are required to be vaccinated. This includes but is not limited to party offices, campaign offices, in-person volunteers, door knocking, meetings, and rallies. Children under 12 are welcome.
For those not able to participate at in-person events, we invite you to join our phone canvassing and data entry teams who will all be working remotely.
Outreach events for October and November.
Sign up to join us by clicking on the dates below.
Phone canvassing parties on Zoom. Meet online at 6:30 p.m. for calls from 6:45 to 8:15: You will receive the Zoom link the morning of our calling party.
Thursdays: October 21, November 11. November 25
Wednesdays October 27, November 3, November 17
Foot canvassing Saturday mornings from 9:45 a.m. until noon. (We will be safely distanced at the doors and will partner beginners with experienced door knockers. You will be amazed how satisfying it is to connect with people).
Huntsville October 23 – Meet at Huntsville High School lower parking lot ***Come out and meet Maureen and Matt who will kick off this first event***
Bracebridge October 30 – Meet at Bracebridge High School parking lot
Gravenhurst October 30 – Meet at Lions Pavilion by the Segwun
Parry Sound November 13 – Meet at Mary St Centre
Huntsville November 20 – Meet at Pine Glen Public School
Burk's Falls November 27 – Meet at Stan Darling Park/The Village Green
Lots of training. Lots of support. Lots of satisfaction and fun. Volunteers are the key to our success. We all want a better future for our kids and grandkids. Now is the time to get involved and take action to make that happen. Let's work with Matt and his team and get the job done, together.
With appreciation,
Linda Mathers
Volunteer Coordinator Parry Sound Muskoka Green Party of Ontario
---
July 2021
The World You Want. The Leadership We Need.
Mike Schreiner, Leader of the Green Party of Ontario and MPP for Guelph, came to Gravenhurst on his Leader's Tour on Tuesday, July 13th. Matt Richter joined Mike to inspire, inform and motivate us to take action. In addition, community advocates and the audience asking questions made us proud of our community engagement in critical local issues
Mike and Matt inspired us with green values put into action.
become allies to implement the 94 calls to action in the Truth and Reconciliation Commission Report and seek solutions together to injustices
see the climate crisis, the housing crisis and the mental health crisis as inextricably linked with solutions – highlighted in the exciting new Housing policy just released : Building Livable and Affordable Communities | GPO
redirect existing money to build livable, connected, healthy communities with both affordable and supportive housing
prioritize walkable communities, protection of green spaces, and emissions reducing construction technology for building and retrofitting (both materials and heating/cooling)
repurpose the subsidies going to the biggest consumers of electricity to go instead to those who need it
address food insecurity, hunger and methane emissions by eliminating the $32B in food waste
transition to clean efficient electric energy – cheaper, renewable and available
capitalize on the circular economy to replace the extraction of petrochemicals with the "mining" of metals and plastics from used materials. This will also grow another sector of a green prosperous economy
Local advocates and audience participation focused attention on local issues
Gravenhurst Against Poverty – Bonnie Dart shared the purpose of G.A.P. as neighbours helping neighbours with food security, an affordable housing/shelter initiative and wellness programs for youth. Later in the day Mike and Matt visited 1 of 7 G.A.P. gardens in Gravenhurst where volunteers grow food for neighbours in difficulty.
Climate Action Muskoka – Sue McKenzie spoke of CAM's work as a local volunteer movement working to achieve meaningful District and municipal climate action leadership, individual and business by-in to reduce GHG emissions and an invitation to all to join the Community Carbon Challenge at climateactionmuskoka.org. CAM is one of many community partners in the "Love Muskoka, Sustain Muskoka" exhibit Matt and Mike were honoured to preview at the Steamship & Discovery Centre.
Lucille Frith highlighted the work of NEORN to bring back affordable accessible rail service to connect communities in the north, urgently needed to reduce our transportation footprint. Mike and Matt finished the day at the Gravenhurst Railway Station where they spoke with Metroland Media's reporter Sarah Law about the Green Party's support for the return of passenger rail.
Participants they met over the full day visit raised issues regarding education, building sustainably, alternatives to gas-fired electricity expansion and the urgency of climate action. While limited by Covid protocol numbers this time, we look forward to gathering safely in larger groups soon..
Motivated by the need for doing politics differently? Take action.
Tell Norm Miller expanding gas plants mean a 300% increase in GHG emissions in this decade and double that moving forward. Instead, invest in retrofit programs to conserve energy and transition to clean, efficient heat pump technology now good to -40C
Write your local and District councilors and advocate for affordable housing, a transition to renewable green energy, transportation by rail, by walking and biking.
Volunteer and help grow our team. Together we will be the Green wave for Matt Richter in Parry Sound Muskoka.
We welcome you to Matt's team
---
June, 2021
"Strong climate action can build a stronger economy that benefits people, jobs and our planet."
Join GPO Leader Mike Schreiner, Deputy Leaders Diane Saxe and Abhijeet Manay on Zoom for the final Town Hall in the GPO platform series, "Building a Stronger Economy Together" on Sunday June 13, 1-2 pm. To register, click on the link below and be sure to select the workshop option on the registration form.
Matt Richter shooting a video for his campaign website. Photo by Bet Smith
Our Candidate is Speaking Up for Our Community
Matt Richter is everywhere these days speaking up about what matters to people in Parry Sound- Muskoka. Matt joined Mike Schreiner at the last two Town Halls hosted by Green Party of Ontario to bring forward issues that matter to us. Highlights are as follows:
Spotlight on Parry Sound-Muskoka May 26th
Along with guest Hannah Lin, Executive Director of the YWCA, Matt and Mike heard from the audience that climate change and affordable housing were their top concerns. Matt expressed the need for provincial policy support to enable the creative local solutions being put forward in our communities. In a rapidly growing climate crisis, green solutions mean addressing local food production and security, active transportation including passenger rail, and protection of natural spaces and places from over-development.
Be Heard Now – Focus Groups
Matt is also engaged in a virtual Listening Tour of Parry Sound-Muskoka. In late January, he hosted constituents in Almaguin HIghlands. In early March, it was time to hear from youth around the riding. Huntsville's turn came in April.
The fourth in this series will invite people from the West Parry Sound area to join Matt and his team for a discussion of the issues most important to them. Please save the date — June 24th — and watch for an email invitation coming soon.
The Listening Tour will start up again in the fall and there will be many more opportunities for people all over the riding to hear and talk with Matt between now and the election on June 2, 2022.
Would you like to volunteer, donate, become a member and/or host an election sign to help us send Matt Richter to Queens Park as the MPP for Parry Sound-Muskoka?
Together for a healthy, greener future!