Kate Bueckert – CBC News
Green candidate Aislinn Clancy had a large lead early in the night and never looked back as she won the provincial byelection in Kitchener Centre.
The unofficial results Thursday night showed Clancy had 11,334 votes, which was 5,022 more than second-place candidate Debbie Chapman of the NDP.,,
"The work starts today. I thought I was tired but I'm a little like 'oh,'" she told the crowd. "We're going to get things done and serve people well."
By-Election Finally Called for Nov. 30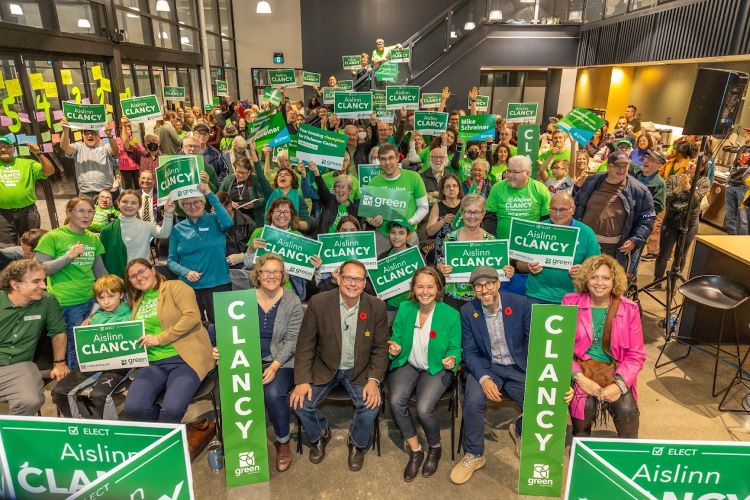 Scene from campaign launch. Hundreds attended!
We made history 12 years ago when Canada's first Green MP was elected.
We did it again in 2018 by electing Ontario's first Green MPP.
And we did it again in 2021 by electing Ontario's first Green MP.
Like many of you, I have been at the ground floor for history in the making. It's been the thrill of a lifetime to be part of our Green movement.
And now, we're on the cusp of making history again.
With the Kitchener Centre by-election coming up in a few weeks, we have a unique opportunity to double our caucus at Queen's Park. Our local team is working night and day to make this a reality.
Now is the best time to make a financial gift. Every penny you can spare is being invested in the Kitchener Centre campaign.
I know how hard Greens work to punch above our weight and achieve our goals of a better Ontario. With only three weeks until election day, help us match those efforts with the financial resources needed to get us over the finish line.
Sincerely,
Craig Cantin Director of Development
Ontario Greens
---
Sept 21, 2023 – Emma McIntosh and Fatima Syed – the Narwharl
"I made a promise to you that I wouldn't touch the Greenbelt. I broke that promise. And for that I am very, very sorry," Ford said with his caucus standing behind him — many of them the same ministers who voted to approve the plan last year.
"It was a wrong decision," Ford added. "We're putting this land back in the Greenbelt."
---
Sept. 13, 2023
---
September 7, 2023
---
Aug 17, 2023
---
QUEEN'S PARK — Ontario Greens leader and MPP for Guelph Mike Schreiner released the following statement in response to news that the Office of the Integrity Commissioner has received a request to investigate whether the Housing Minister's Chief of Staff contravened the Public Service of Ontario Act in deciding which lands to remove from the Greenbelt.
"Yesterday, a bombshell report from Ontario's Auditor General confirmed what we've known all along about the Ford government's Greenbelt giveaway.
For five years, this government has favoured wealthy insiders at the expense of everyday Ontarians.
The Premier and his cabinet have demonstrated a complete lack of respect for Ontarians – a willingness to break all the rules when an elite insider comes calling, leaving the rest of us to foot the bill.
This fight is far from over. Ontario Greens are calling for the following measures to redress the harms committed by the Ford government:
A commitment from the Ford government to accept the Auditor General's recommendation to reverse their 2022 decision to alter Greenbelt boundaries;
The resignation of the Minister of Municipal Affairs and Housing and his chief of staff;
An OPP investigation into whether there was any criminal activity by members of the Ford government; and
An investigation by the Integrity Commissioner into whether the Housing Minister's Chief of Staff acted in contravention of the Public Service of Ontario Act.
Ontario Greens stand with the millions of Ontarians who are outraged at the Ford government's actions to benefit elite insiders. We will continue fighting to restore accountability, transparency and trust to the public."
---
July 26, 2023
QUEEN'S PARK — Ontario Greens leader and MPP for Guelph Mike Schreiner released the following statement in response to reports that developers purchased 524 acres of the Duffins Rouge Agricultural Preserve in June.
"It's disgusting that the Ford government is rolling out the red carpet for wealthy, well-connected land speculators to cash in on destroying the land that feeds us, protects us from flooding and cleans our drinking water.
Ford has effectively declared open season on the Greenbelt – and his reckless giveaways only set the stage for future destruction.
So it's no surprise that speculators are rushing to cash in – buying up hundreds of acres of land that should be protected in perpetuity. Everyday folks will pay the price for Ford's reckless disregard for our food security and safety.
The Duffins Rouge Agricultural Preserve is the crown jewel of the Greenbelt, and one of the most ecologically sensitive areas in Ontario.
Its farmlands are some of the richest in North America. Its wetlands, rivers, forests and wildlife habitats are a biodiversity anchor for the entire Rouge area.
Everyday Ontarians will gain nothing by paving it over.
We don't need million-dollar homes in the Greenbelt. The government's own housing taskforce has debunked the claim that these lands are needed for housing.
We need homes that people can afford, in connected, affordable communities designed for people, not wealthy speculators.
Ontario Greens will continue to work across party lines to push back against Doug Ford's Greenbelt destruction and call for the repeal of Bill 23."
---
May 2, 2023 – GPO press release
KITCHENER — Kitchener Centre Greens have named Aislinn Clancy as their candidate in the upcoming provincial by-election.
"I am delighted to be representing the Ontario Greens in the upcoming by-election," said Clancy.
"As a city councillor, I have spent time speaking and listening to community members about the challenges we're facing: issues like housing affordability, cost of living, loss of farmland, air and water pollution – issues that impact all of us.
"Those conversations have made it crystal-clear that Kitchener needs a caring, connected and climate-ready advocate at Queen's Park now more than ever."
Clancy is the current Kitchener City Councillor for Ward 10, as well as a committed climate activist, social worker and community volunteer. After becoming councillor, she knocked on every door in Ward 10 to ensure all 18,000 constituents knew that she was there to work for them.
Ontario Greens leader and MPP for Guelph Mike Schreiner joined Clancy on stage to celebrate her nomination.
"Aislinn is a compassionate leader, a committed community member, and has a bold vision for building a more caring, connected, and climate-ready Kitchener," said Schreiner.
"I am so excited to work alongside her as we gear up to bring another Green voice to Queen's Park. We've seen how much one Green MPP can accomplish – now imagine what we can do with two."
---
April 24, 2023 – GPO press release
QUEEN'S PARK — Ontario Greens leader and MPP for Guelph Mike Schreiner released the following statement in response to reports that the Ford government's continued investment in fossil gas plants may mean Ontario businesses are not eligible for the federal government's clean energy tax credit.
"While other provinces and countries move full-speed ahead toward renewable energy, Doug Ford is headed in the opposite direction.
Under his government, Ontario's electricity grid is actually getting dirtier – to the detriment of all Ontarians.
We have seen report after report showing that renewables are cleaner, safer and cheaper than fossil fuels.' – more
---
Over the past few weeks, I've asked myself and others how I can best contribute to building the Ontario we want.
The answer for me is as the leader of the Ontario Greens.
I am deeply grateful to the thousands of people who have reached out to share their thoughts about the future of our province, the overwhelming majority of them encouraging me to unite a progressive movement.
With this announcement I pledge to do my part, working across party lines to put people, planet, and this province we love first.
Please watch my video message and, if you'd like to share your thoughts, you can email me at leader@gpo.ca
Sincerely,
Mike Schreiner Leader, MPP for Guelph
Ontario Greens
---
February 13, 2023 – Mike Schreiner – Guelph Mercury
Luckily, we don't have to choose between a healthy environment and economic prosperity, writes Guelph MPP Mike Schreiner
Ontario is at a crossroads. We must reach net-zero emissions by 2045 if we hope to avoid the worst impacts of the climate crisis. Decisions we make today will chart the course of the world we're leaving behind for generations to come.
Luckily, we don't have to choose between a healthy environment and economic prosperity. We can build a province in which a strong, sustainable economy is supported by local businesses leading the transition to net-zero emissions. – more
---
Guelph – Feb 10, 2023 – Mike Schreiner, Press release
I've spent the past week speaking with community members, councillors and municipal leaders across the province, listening to their concerns about the disastrous impacts of Bill 23 – from its expensive pro-sprawl agenda to its threats to conservation authorities, farmlands, wetlands and our Greenbelt.
These are crucial conversations to be having, because people and municipalities are the ones who will pay the price for the Ford government's regressive housing policies and attacks on environmental protections.
From Muskoka to Prince Edward County to Hamilton, the consensus has been clear. Bill 23 will not solve the housing affordability crisis. In fact, it is going to make it worse – impeding municipalities' ability to build affordable, connected communities where people can be close to work and the services they need.
Local leaders know that we can build the housing we need within existing urban boundaries. – more
---
Promise made, promise broken.
Doug Ford now plans to open up 7,400 acres of protected Greenbelt land to pro-sprawl developers.
And he's still determined to build the disastrous Greenbelt highways – Highway 413 and the Bradford Bypass – that will pave over thousands of acres of farmland and pump millions of tonnes of carbon pollution into the atmosphere.
We can't keep bulldozing the precious farmland that feeds us and the wetlands that protect us from extreme weather.
We can stop this.
Ford tried the same thing four years ago but had to back down when the people rose up and said no. It's time for more people power.
Tell Doug Ford: Hands off the Greenbelt!
---
There's no excuse for sprawling onto the Greenbelt
Nov. 17, 2022 By Mike Schreiner – Toronto Star
Doug Ford is clearly starting to run out of excuses to justify his government's expensive pro-sprawl agenda. As the housing crisis worsens, and more and more Ontarians struggle to find an affordable place to call home, the Ontario premier has now found a new scapegoat: blaming newcomers and increased immigration targets for his broken Greenbelt promise that will lead to the destruction of farmland and nature.
Read Mike's Opinion Piece
---
From Enviromental Defence
"Ontario's Housing Bill is Actually a Trojan Horse for Environmentally Catastrophic Rural Sprawl," – Environmental Defence
"Bill 23 is bent on removing and weakening environmental protections and cutting out the public from meaningful involvement in land use planning and decision-making." – Ontario Nature
"Together, the proposed legislative amendments and associated policy and regulatory changes are an extensive package; the biggest that CELA has seen in decades." – Canadian Enviromental Law Association
Click for links to a recording of the webinar, where to get more information and tools to help you take action on this important issue!
---
---
May 12, 2022 –TORONTO — Today, Leader Mike Schreiner launched The Green Plan: New solutions to old problems ahead of the June election.
"Our vision is for the Ontario we all want — caring, connected, and ready for the new climate economy," Schreiner said at the announcement in Toronto alongside Deputy Leaders Dianne Saxe and Abhijeet Manay. "And with our full slate of strong, diverse candidates, we have the leadership ready to deliver on it."
"We need new solutions to the decades-long problems that the old-line parties have simply failed to solve."
The Green Plan includes 6 key priorities:
Homes not highways
Mental health is health
New Climate Economy
Respect for People and Workers
Reinvest in health and education
Protect nature
"The half measures of the other parties will only paper over the cracks in Ontario's foundation," Schreiner said. "We have to act now to tackle housing affordability, address the climate emergency and improve our health. We cannot afford to wait."
Please find the full platform at: www.gpo.ca/platform
---
April 28, 2022 – Appeared in both Toronto Star and National Post
– By Holly McKenzie-Sutter, The Canadian Press
Ontario's Greens are hoping to build on momentum from their first-ever provincial win and grow their caucus of one this spring –
… In Parry Sound-Muskoka this time around, the party sees an opening with the sitting Tory not seeking re-election. "It's really opened the doors for our message, and it's being received tremendously well this time through," Richter said in an interview. He said his party's "straightforward approach" to the worsening housing crisis, transportation and climate change seems to be resonating with voters who are frustrated with "getting rhetoric from the old-school parties."
---
March 3, 2022 – We are proud to announce our groundbreaking mental health plan, "Building a More Caring Ontario."
Mental Health Is Health Care
Decades of neglect from successive governments has led to long wait times and inadequate funding and support. Mental health touches all of our lives and proper care should be available for everyone.
Ontario Greens have a plan to make mental health care more Affordable, Accessible and Comprehensive, so that anyone in this province can get the care that they need.
---
February 2, 2022 – Schreiner echoes call for immediate support for downtown Ottawa small businesses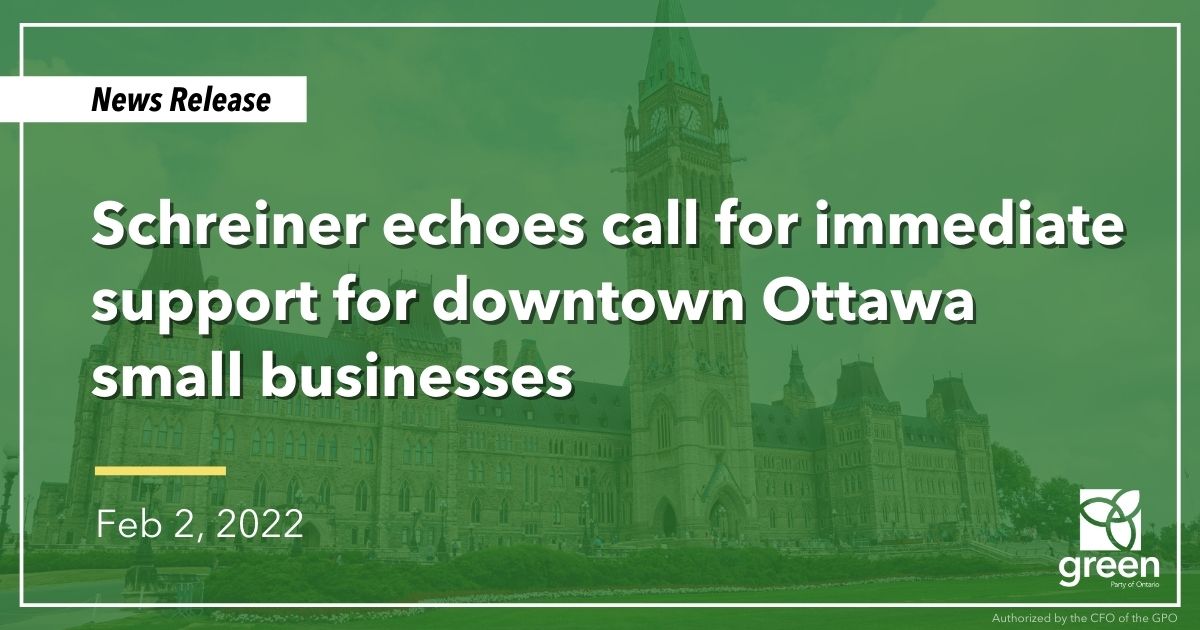 OTTAWA — Mike Schreiner made the following statement regarding small businesses impacted by the trucker convoy in Ottawa:
"I'm echoing the call from local politicians, council and residents urging Doug Ford to send immediate financial assistance to downtown Ottawa small businesses.
These businesses were gearing up to reopen this week. And now due to the disruption and chaos caused by the protests have been forced to remain closed.
Many of these small businesses were already hanging on by a thread after two years of intermittent lockdowns and insufficient support from the Ford government. Livelihoods are on the line. They need the government's support urgently."
---
Jan 19, 2022 – Mike Schreiner held a virtual news conference to call for all-party collaboration on housing
TORONTO — This morning, Ontario Greens leader Mike Schreiner held a virtual news conference to call for all-party collaboration on housing and to call on Doug Ford to "get serious" about addressing the housing affordability crisis.
Notably, no opposition parties were invited to the Ford government's housing summit today.
"This is a pattern," Schreiner said. "Doug Ford refuses to listen to good ideas.
"People facing a crisis don't care about political stripes. They need solutions. They need all of us to collaborate and work together. I challenge the Premier to take the housing crisis seriously and listen to our ideas." – read more
---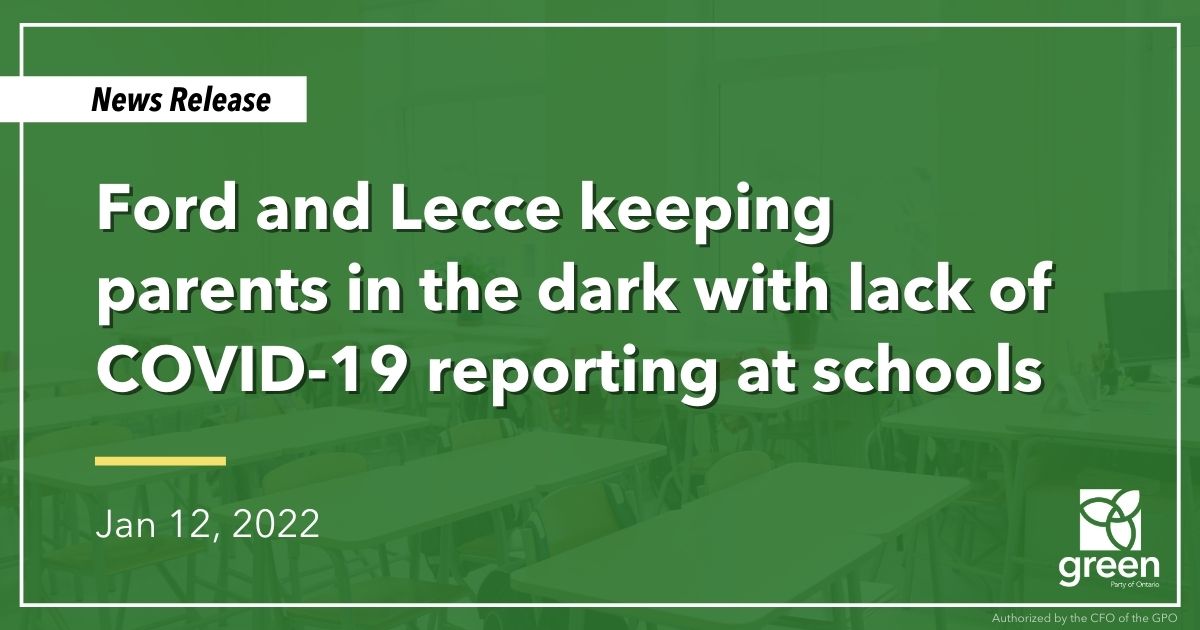 TORONTO — Mike Schreiner made the following statement in response to Minister Lecce's press conference this afternoon:
"Withholding critical COVID-19 information is not empowerment. It's keeping parents in the dark.
The fact that the government will wait until 30% of students and staff are absent before notifying parents about an outbreak in their child's classroom is ridiculous.
Greens want students back in class learning. And public health experts are clear that more information and transparency — not less — is necessary to protect children and maintain public confidence that schools are safe.
That's why I've called on the Ford government to implement a province-wide database on safe school statistics.

The database should be broken down by individual schools, be up-to-date and highlight key safety information, including:
Case and outbreak numbers
Number of KN95 and N95 masks available to students and educators
Statistics on air quality, including number of HEPA filters and quality of ventilation and airflow
Anonymous vaccination rates of educators and students (including number of doses)
Number of rapid and PCR test kits available
Class sizes
Absenteeism statistics
I'm relieved to see the Minister finally step up to the mic after governing by media leaks for the past two weeks.
We know what can be done to make schools safer. We can mandate vaccines for educators and add COVID-19 to the existing list of required vaccines. We can improve air quality and make testing more accessible and regular.
We need to do everything possible to ensure kids are learning in safe and healthy environments and that schools don't close again."
---
QUEEN'S PARK Dec 7, 2021 — Mike Schreiner made the following statement in response to this morning's new FAO report on the costs of climate change, which he requested in 2019: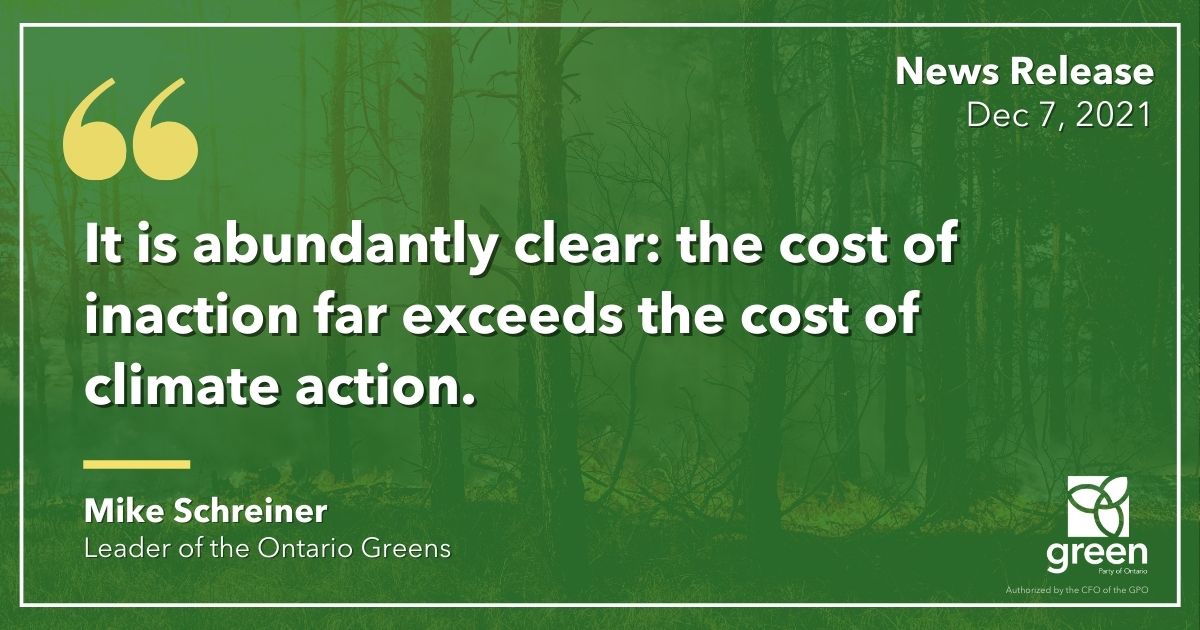 "Doug Ford is not only taking us backwards on climate action and harming our environment, but his policies are also hurting taxpayers' wallets. Read the full statement – here
---
B.C. Storms: A Conversation with Sonia Furstenau
Ontario Greens Leader Mike Schreiner & B.C. Greens Leader Sonia Furstenau discuss the B.C. storms and the impacts of climate change. Watch the YouTube video.
---
FOR IMMEDIATE RELEASE
Green Party of Ontario Releases Roadmap to Net-Zero: The Ontario Green's Climate Plan
HUNTSVILLE, ONTARIO October 28, 2021. Matt Richter and the Parry Sound Muskoka Greens are proud to support the launch of the Roadmap to Net-Zero: The Ontario Green's Climate Plan, a fully costed road map to net-zero carbon emissions in Ontario by 2045.
"This ambitious but pragmatic plan lays the road map to addressing the climate crisis in Ontario and leverages investments to grow a more sustainable future while creating new local jobs," says Matt Richter, the local Green Party candidate in Parry-Sound Muskoka
While other countries are making real progress in reducing their climate pollution, Ontario's progress has stopped. The province pollutes the climate about as much now as in 2014 and more than in 2017. Ontario must change course, dramatically and quickly.
The plan highlights the need to transform our energy use in housing stock to make maintaining a home more predictable and affordable.
"We talk a lot about affordable housing from the perspective of how much it costs to rent or buy, yet we also need to look at how challenging it is to keep up with monthly energy costs," says Richter. "Affordable housing has to be affordable to live in. And the way to do this is by making the necessary investments in energy conservation retrofits and the installation of green energy equipment."
The plan highlights the urgent need to accelerate the transition towards carbon neutrality by 2045. The climate crisis plays not just a role in our energy production and use, but every facet of our daily lives, such as transportation, healthcare, and food production. This ambitious plan creates a road map to successfully transition away from fossil fuels across all sectors of the economy and works directly with indigenous groups to expand the protection of natural spaces.
The plan includes a framework of accountability, requiring annual reporting of carbon emissions. It is no longer enough to just set goals; Ontario must also meet those goals.
"Accountability has to be central to meeting any goals. Annual reporting of carbon emissions is the absolute bare minimum. It's disappointing that no previous government has taken this simple step to keep Ontarians informed on our progress in tackling climate change at home."
As Canada prepares to send delegates to COP26 this week in Glasgow, the Ontario Greens know that Ontario can and should be a leader in reducing carbon emissions and have created this Roadmap to Net-Zero.
Steering rapid changes in an emergency is the job of government. Government is how we pool our resources to get big tasks done. A government that is serious about the climate crisis will put us all on the path to a green, just, and resilient economy by:
Setting the rules and the pace
Building the right infrastructure and institutions, and
Putting the right resources to work.
To see the entire costed plan, please visit gpo.ca/climate
Maureen Balsillie
Campaign Manager, Matt Richter for Parry Sound Muskoka 2022
---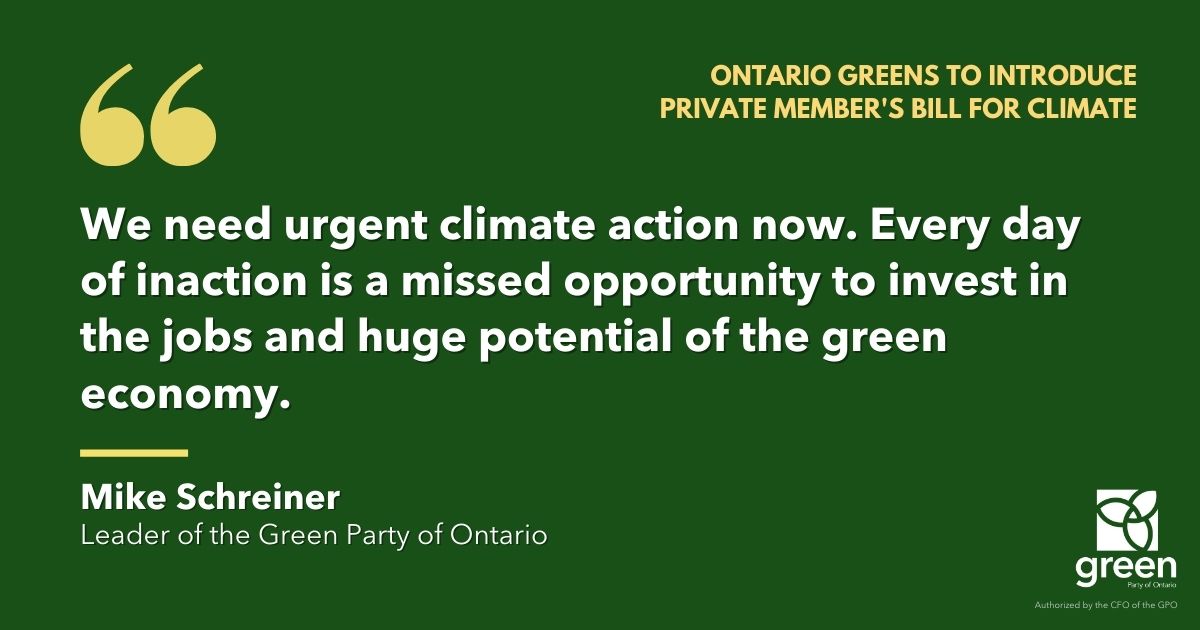 QUEEN'S PARK — This morning, Ontario Greens Leader Mike Schreiner was joined by Ontario Greens Deputy Leader and former Environmental Commissioner for Ontario Dianne Saxe to introduce his Private Member's Bill, the Carbon Budget Accountability Act.
"We are in a climate emergency," Schreiner said. "The science and evidence is clear: we need to rapidly and drastically reduce climate pollution to avoid climate disaster."
If passed, the Bill will enact a Zero Carbon Law that sets a Fair Share Carbon Budget and will cut Ontario's climate pollution in half by 2030 and to net-zero every year from 2045.
"We need urgent climate action now," Schreiner stressed. "The effects of the climate emergency get more severe with every day of inaction. Heat waves get more deadly, wildfires get more intense, floods get more frequent and severe, and extreme storms get more costly.
"And every day of inaction is a missed opportunity to invest in the jobs and huge potential of the green economy."
The Carbon Budget Accountability Act would require the Premier and Minister of Environment, Conservation and Parks to ensure Ontario's total net emissions of greenhouse gases does not exceed the specified carbon budget.
"We're heading directly towards climate chaos if we don't change course," warned Ontario Green Deputy Leader and former Environmental Commissioner for Ontario Dianne Saxe. "We need to crush climate pollution and we need to start now.
Saxe noted that the Ford government is polluting the climate at an unsustainable and devastating rate. "It's harming nature, it's harming our health, and it's harming our future."
While other regions around the world are embracing the green economy and reducing emissions, Ontario pollutes the climate even more now than it did in 2017.
"Policies like the Carbon Budget are what it's going to take to avoid climate chaos and create a better life," Saxe highlighted. "Not incremental half measures like the other opposition parties are proposing."
"If the other parties are at all serious about tackling the climate emergency, they'll vote in support of this bill."
Schreiner will table and debate the bill this week.
Mike Schreiner's statement on today's Global Climate Strike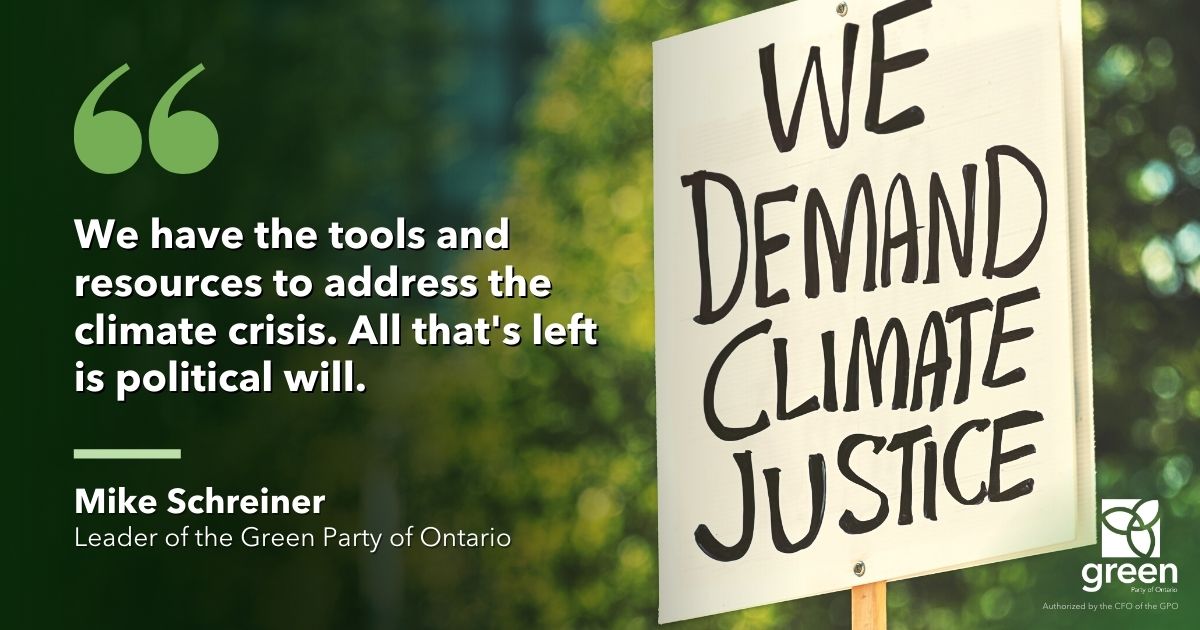 Watch Mike Schreiner's message
GUELPH — Mike Schreiner released the following statement on today's Global Climate Strike:
"Today is the Global Climate Strike. And as people from around the globe rally together to demand stronger climate action from our governments, I'm inspired by the youth in Ontario, Canada and across the world who have the courage to speak out and demand urgent action.
We know that we are running out of time to reduce climate pollution and bring global temperatures down before we cause irreversible damage from climate change.
Status quo governments are failing to act with the urgency needed.
But rallies like today's Global Climate Strike is a symbol of just how much of a difference we can make when we work together to demand climate action.
In Ontario, this means putting an end to government-funded support for the expansion of fossil fuel infrastructure, electrifying our transportation, protecting farmland and wetlands, retrofitting our homes, stopping sprawl and building livable and affordable 15 minute communities.
We have the tools, resources and the means to do it. We simply need the political will to act.
It's time for our governments to take the climate emergency seriously. And to urgently act on solutions.
If this message resonates with you, add your voice to the climate conversation.
Join me in challenging the status quo at Queen's Park and let's create a better planet for the people of today and for future generations."
---
Mon., June 28, 2021 – By Star Editorial Board
Ontario Green Party Leader Mike Schreiner released his party's housing strategy (pdf) last week, and it's an ambitious document that proposes tackling the housing crisis from all vantage points… It's a master class in housing policy when compared to Premier Doug Ford's simplistic view that handing developers land through ministerial zoning orders (MZOs) creates affordable housing.
To read the whole editorial click on the green headline – For more information on the party's housing strategy click on the green underlined link in the paragraph above to open the 61 page pdf, Building Livable & Affordable Communities.