QUEEN'S PARK Dec 7, 2021 — Mike Schreiner made the following statement in response to this morning's new FAO report on the costs of climate change, which he requested in 2019: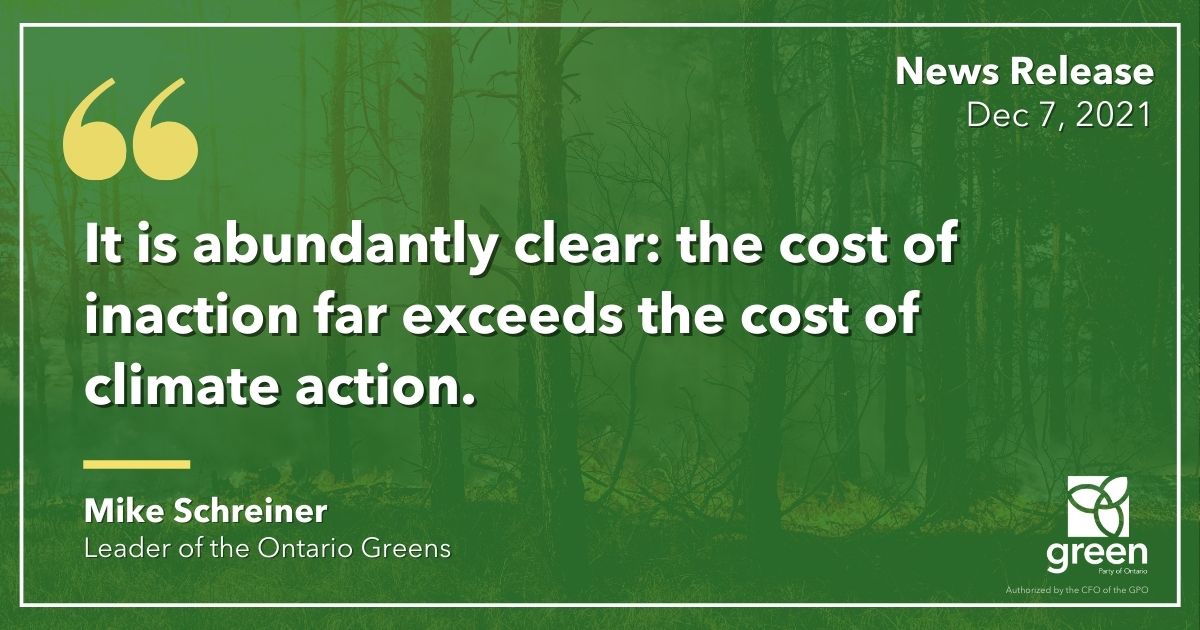 "Doug Ford is not only taking us backwards on climate action and harming our environment, but his policies are also hurting taxpayers' wallets. Read the full statement – here
---
B.C. Storms: A Conversation with Sonia Furstenau
Ontario Greens Leader Mike Schreiner & B.C. Greens Leader Sonia Furstenau discuss the B.C. storms and the impacts of climate change. Watch the YouTube video.
---
FOR IMMEDIATE RELEASE
Green Party of Ontario Releases Roadmap to Net-Zero: The Ontario Green's Climate Plan
HUNTSVILLE, ONTARIO October 28, 2021. Matt Richter and the Parry Sound Muskoka Greens are proud to support the launch of the Roadmap to Net-Zero: The Ontario Green's Climate Plan, a fully costed road map to net-zero carbon emissions in Ontario by 2045.
"This ambitious but pragmatic plan lays the road map to addressing the climate crisis in Ontario and leverages investments to grow a more sustainable future while creating new local jobs," says Matt Richter, the local Green Party candidate in Parry-Sound Muskoka
While other countries are making real progress in reducing their climate pollution, Ontario's progress has stopped. The province pollutes the climate about as much now as in 2014 and more than in 2017. Ontario must change course, dramatically and quickly.
The plan highlights the need to transform our energy use in housing stock to make maintaining a home more predictable and affordable.
"We talk a lot about affordable housing from the perspective of how much it costs to rent or buy, yet we also need to look at how challenging it is to keep up with monthly energy costs," says Richter. "Affordable housing has to be affordable to live in. And the way to do this is by making the necessary investments in energy conservation retrofits and the installation of green energy equipment."
The plan highlights the urgent need to accelerate the transition towards carbon neutrality by 2045. The climate crisis plays not just a role in our energy production and use, but every facet of our daily lives, such as transportation, healthcare, and food production. This ambitious plan creates a road map to successfully transition away from fossil fuels across all sectors of the economy and works directly with indigenous groups to expand the protection of natural spaces.
The plan includes a framework of accountability, requiring annual reporting of carbon emissions. It is no longer enough to just set goals; Ontario must also meet those goals.
"Accountability has to be central to meeting any goals. Annual reporting of carbon emissions is the absolute bare minimum. It's disappointing that no previous government has taken this simple step to keep Ontarians informed on our progress in tackling climate change at home."
As Canada prepares to send delegates to COP26 this week in Glasgow, the Ontario Greens know that Ontario can and should be a leader in reducing carbon emissions and have created this Roadmap to Net-Zero.
Steering rapid changes in an emergency is the job of government. Government is how we pool our resources to get big tasks done. A government that is serious about the climate crisis will put us all on the path to a green, just, and resilient economy by:
Setting the rules and the pace
Building the right infrastructure and institutions, and
Putting the right resources to work.
To see the entire costed plan, please visit gpo.ca/climate
Maureen Balsillie
Campaign Manager, Matt Richter for Parry Sound Muskoka 2022
5194001437
---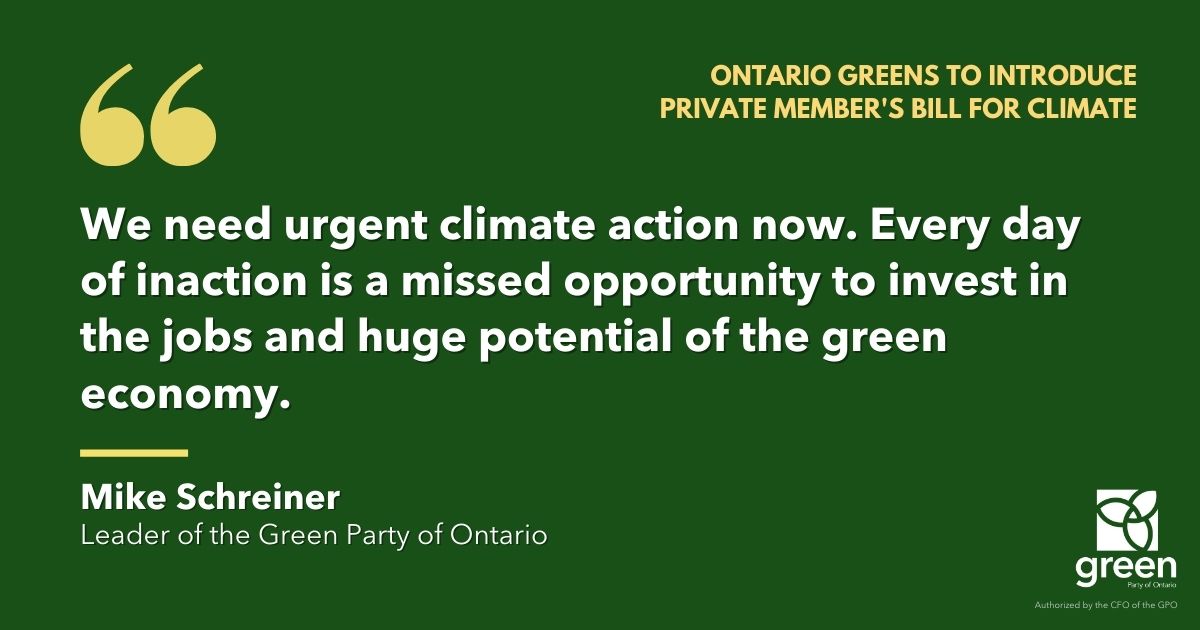 QUEEN'S PARK — This morning, Ontario Greens Leader Mike Schreiner was joined by Ontario Greens Deputy Leader and former Environmental Commissioner for Ontario Dianne Saxe to introduce his Private Member's Bill, the Carbon Budget Accountability Act.
"We are in a climate emergency," Schreiner said. "The science and evidence is clear: we need to rapidly and drastically reduce climate pollution to avoid climate disaster."
If passed, the Bill will enact a Zero Carbon Law that sets a Fair Share Carbon Budget and will cut Ontario's climate pollution in half by 2030 and to net-zero every year from 2045.
"We need urgent climate action now," Schreiner stressed. "The effects of the climate emergency get more severe with every day of inaction. Heat waves get more deadly, wildfires get more intense, floods get more frequent and severe, and extreme storms get more costly.
"And every day of inaction is a missed opportunity to invest in the jobs and huge potential of the green economy."
The Carbon Budget Accountability Act would require the Premier and Minister of Environment, Conservation and Parks to ensure Ontario's total net emissions of greenhouse gases does not exceed the specified carbon budget.
"We're heading directly towards climate chaos if we don't change course," warned Ontario Green Deputy Leader and former Environmental Commissioner for Ontario Dianne Saxe. "We need to crush climate pollution and we need to start now.
Saxe noted that the Ford government is polluting the climate at an unsustainable and devastating rate. "It's harming nature, it's harming our health, and it's harming our future."
While other regions around the world are embracing the green economy and reducing emissions, Ontario pollutes the climate even more now than it did in 2017.
"Policies like the Carbon Budget are what it's going to take to avoid climate chaos and create a better life," Saxe highlighted. "Not incremental half measures like the other opposition parties are proposing."
"If the other parties are at all serious about tackling the climate emergency, they'll vote in support of this bill."
Schreiner will table and debate the bill this week.
Mike Schreiner's statement on today's Global Climate Strike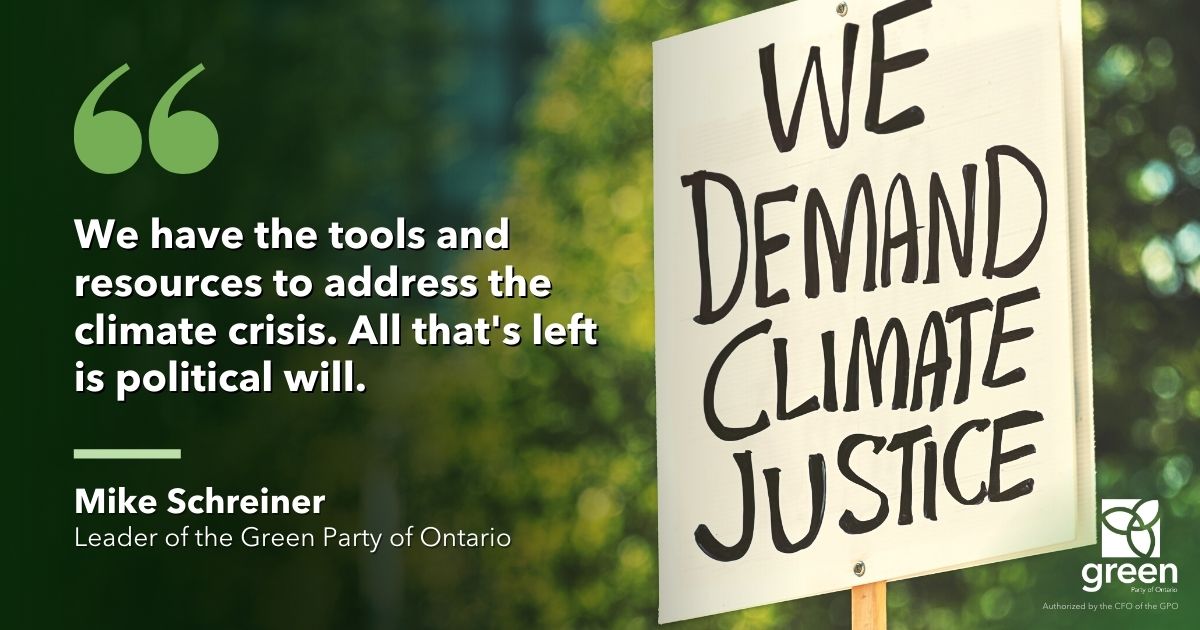 Watch Mike Schreiner's message
GUELPH — Mike Schreiner released the following statement on today's Global Climate Strike:
"Today is the Global Climate Strike. And as people from around the globe rally together to demand stronger climate action from our governments, I'm inspired by the youth in Ontario, Canada and across the world who have the courage to speak out and demand urgent action.
We know that we are running out of time to reduce climate pollution and bring global temperatures down before we cause irreversible damage from climate change.
Status quo governments are failing to act with the urgency needed.
But rallies like today's Global Climate Strike is a symbol of just how much of a difference we can make when we work together to demand climate action.
In Ontario, this means putting an end to government-funded support for the expansion of fossil fuel infrastructure, electrifying our transportation, protecting farmland and wetlands, retrofitting our homes, stopping sprawl and building livable and affordable 15 minute communities.
We have the tools, resources and the means to do it. We simply need the political will to act.
It's time for our governments to take the climate emergency seriously. And to urgently act on solutions.
If this message resonates with you, add your voice to the climate conversation.
Join me in challenging the status quo at Queen's Park and let's create a better planet for the people of today and for future generations."
---
Mon., June 28, 2021 – By Star Editorial Board
Ontario Green Party Leader Mike Schreiner released his party's housing strategy (pdf) last week, and it's an ambitious document that proposes tackling the housing crisis from all vantage points… It's a master class in housing policy when compared to Premier Doug Ford's simplistic view that handing developers land through ministerial zoning orders (MZOs) creates affordable housing.
To read the whole editorial click on the green headline – For more information on the party's housing strategy click on the green underlined link in the paragraph above to open the 61 page pdf, Building Livable & Affordable Communities.