Sept 19, 2023 – Doppler online
80 Muskokans and Almaguins marched to River Mill Park in the rain to tell our leaders, and world leaders, that we must act now, joining global climate actions in 65 countries, over 500 cities ahead of the world leaders' gathering at the UN in New York to discuss Climate Ambitions.
And we have support at home. 75% of Canadians worry about Climate change. 21% are having fewer or NO children as a result.
---
June 9, 2023 – Toronto Star- Letter to the Editor – Linda Mathers

As wildfires worsen air quality, Doug Ford urges Ontarians to avoid campfires — but stops short of a fire ban, June 7
Our MPP and the Minister of Natural Resources and Forestry Graydon Smith came dangerously close to sounding like a climate denier both inside and outside the legislature on Tuesday.
When asked by opposition party leader Marit Stiles to make the link between climate change and the raging forest fires across Ontario, and the entire country, Smith dodged the question. He actually said, "We've always had forest fires."
In contrast, Mike Norton, director general of the Northern Forestry Centre at the Department of Natural Resources said on Monday, "So far this season 2,214 fires have consumed more than three million hectares in Canada. The 10-year average over the same time frame was 1,624 fires and 254,429 hectares."
This is not normal, he went on to say.
With the province blanketed in smoke, people urged to stay indoors with air quality reaching dangerously high alert levels, Graydon Smith told the legislature his ministry is investing in firefighting equipment and resources. It's a little like applying a Band-Aid to a gushing wound instead of stopping the bleeding.
Minister Smith, you and your Ford government, need to wake up and stop the climate heating. Failure to do so is unthinkable.
Linda Mathers, Port Carling
---
June 5, 2023 – Brent Cooper Almaguin News
Matt Richter is fully committed to helping the Parry Sound—Muskoka Green Party win the next provincial election, which could be held in 2026.
However, in what capacity he will serve remains to be seen.
"I have often said I want to run again, but over the next three years, there's a lot of moving parts … but the one thing is that we are very assured of is that we live in a riding that will be going Green, and I would love to be part of it in some capacity, whether it be at the candidate level or not." more
---
June 5, 2023 – By Brent Cooper Almaguin News
The regional Green party group is looking for a new leader.
Arleigh Luckett, who has held the top post with the Green Party of Ontario's Parry Sound—Muskoka Constituency Association since 2018, said she is officially stepping down from the post.
She said she told the constituency association prior to the annual general meeting on June 4 in Gravenhurst that after serving for four and a half years in the position, she would not be standing for re-election as president of the association, nor for any other position on the executive at the meeting. more
---
April 19, 2023 – Mike Schreiner -featured in MuskokaRegion.com
On Earth Day we are at a climate crossroads, writes Ontario Green Party Leader and Guelph MPP Mike Schreiner
"We need honest, ambitious climate action now. But unfortunately, Ontario has a premier who is still investing in expensive fossil gas plants, paving over wetlands and farmlands, and supercharging climate pollution with expensive urban sprawl." Read the whole article
---
Wed, February 8, 2023 – Sarah Cooke – Parry Sound North Star
"If you look around the world and you look at our own backyard, the climate crisis is here … the severity and frequency of climate fuelled extreme weather events are already hitting us and it's only going to get worse if we don't start reducing climate pollution." — more
Wed Feb. 8th, 2023 – Mathew Reisler – MyMuskokaNow
Mike Schreiner, the Leader of the Green Party of Ontario, was in Huntsville Tuesday for a town hall at the Active Living Centre to talk about his opposition to Bill 23, the More Homes Built Faster Act.
As part of the meeting, Schreiner was part of two meetings with municipal leaders in Parry Sound and Muskoka. That includes mayors and councillors from Gravenhurst, Georgian Bay, Muskoka Lakes, Burks Falls, Perry, Armour, Sundridge, Huntsville, Bracebridge, and Lake of Bays. An informal working group was formed as a result of the meetings.
"The concerns and needs of rural municipalities are very different than (Greater Toronto Area) municipalities," says Schreiner. – more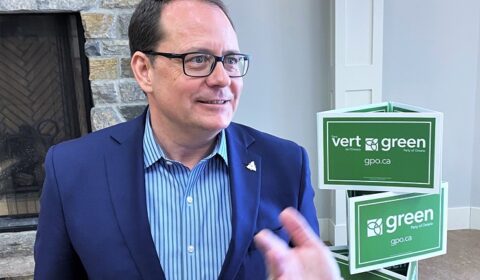 Feb 8, 2023 – Mark Clairmont – MuskokaTODAY.com OPINION
HUNTSVILLE — Mike Schreiner is Ontario's most popular opposition leader.
"I like Mike" is a common refrain.
A tiny, perfect MPP.
With the Liberals and NDP hard-pressed to find anyone to lead them — let alone ones as likeable as Mike — the left of Doug Ford is as wide open as the Greenbelt is to development. – more
Wed, February 8, 2023 – Sarah Cooke – Almaguin News
Ontario's Green Party Leader Mike Schreiner hosted a town hall in Huntsville on the controversial Bill-23 which saw Almaguin residents and council members in attendance.
During a meeting that took place prior to the town hall, Schreiner said the biggest issue he heard from Almaguin council members was the loss of site plan control.
…The needs for the Parry Sound, Almaguin and Muskoka region are much different than those of central Ontario and the GTA, Schreiner said, and while development of the greenbelt is a huge concern, the concerns for the region included wetland and watershed management.– more
---
Dec 14, 2022 – MuskokaRegion. com – letter
Friday, Dec. 9, I joined concerned citizens gathered in Memorial Park to peacefully demonstrate against Bill 23. From there we walked, letters in hand, gathering in front of your constituency office to deliver them two at a time… – more
---
November 28, 2022 – Muskokaregion.com
Fifty volunteers in five communities across Parry Sound, Muskoka and Almaguin joined 700 volunteers in a provincewide Day of Action on Nov. 26 to save the greenbelt and stop Highway 413.
Over 830 local citizens signed petitions Saturday calling on the Doug Ford government to halt the destruction of the greenbelt, cancel Highway 413 and stop Bill 23, the More Homes Built Faster Act. – more
---
Taylor West – Muskoka 411 –
November 15, 2022
Gravenhurst resident Arleigh Luckett has been awarded the Lois James Volunteer Award for 2022, the Green Party of Ontario (GPO) announced Tuesday in a press release.
Every year the GPO recognizes an outstanding volunteer whose dedication and service have significantly advanced the values and policies of Green Party constituents, supporters, and voters.
Luckett was elected President of the GPO Parry Sound-Muskoka Constituency Association in 2018 and has worked on behalf of Green Party candidates and initiatives for 14 years, including as campaign manager for two campaigns. – more
---
Sarah Law, MuskokaRegion.com
June 3, 2022
Matt Richter achieved more than 40 per cent of the vote, placing him narrowly behind Progressive Conservative candidate Graydon Smith.
It was a historically close race in a riding led by Conservative MPPs since its formation in 1999 — and the Green party's best showing in Parry Sound-Muskoka ever.
There was much speculation about whether Richter could turn Parry Sound-Muskoka green — and it almost happened.
But how? Read the whole story
---
MuskokaRegion.com
Friday, May 27, 2022
It's week 140 of the climate strike in Bracebridge, and this time the activists were joined by well-known environmental advocate Elizabeth May.
May, the former Green Party of Canada leader and current MP for Saanich-Gulf Islands in British Columbia, showed her support for Parry Sound-Muskoka's provincial Green candidate, Matt Richter.