Parry Sound-Muskoka GPO Constituency Association's AGM.
June 4, 2023 2:00-4:00 pm
Discover Green Hope is the theme of the Parry Sound-Muskoka GPO Constituency Association's AGM. The program will include Matt Richter as the the keynote speaker followed by a Q & A.- details – register
---
"Yours To Protect Action"
Friday May 12, 2023
More than 400 citizens from South River to Severn Bridge have signed a "Yours To Protect Action" letter delivered today, to member of provincial parliament (MPP) Graydon Smith, minister of natural resources and forestry. – more
---
Exciting news!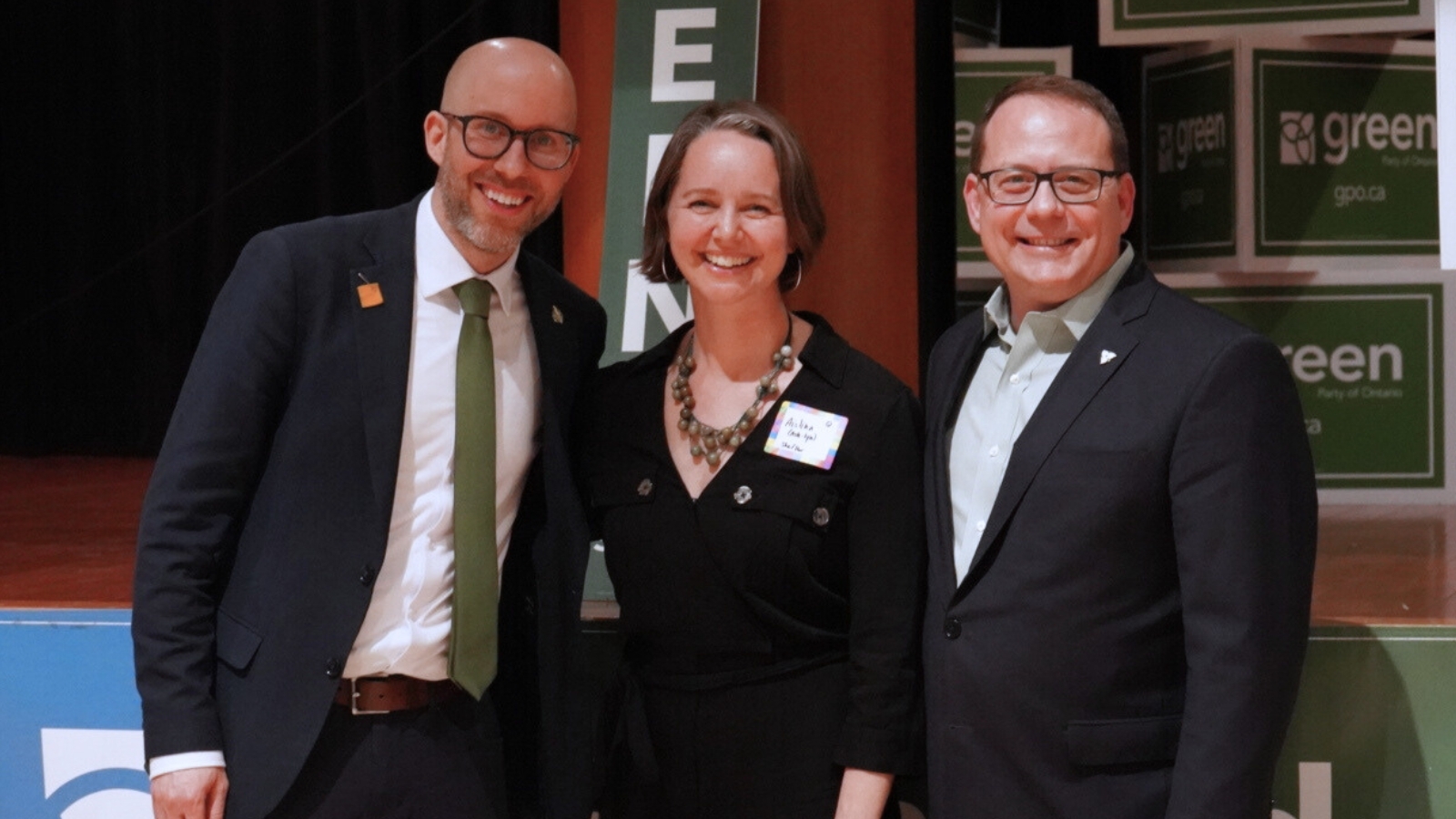 May 4, 2023 – Mike Schreiner
After a spirited and competitive nomination contest, Greens in Kitchener Centre have chosen city councillor Aislinn Clancy as their candidate in the by-election to be held later this year.
I was joined by my friend Mike Morrice MP this week as we congratulated Aislinn on her nomination as the Ontario Greens' candidate in Kitchener Centre.
And if that riding sounds familiar, yes, that's where Mike Morrice made history in the 2021 federal election when he was elected Ontario's first Green MP.
We know we can match that result provincially – and we're off to a flying start with Aislinn as our candidate. — More here
---
In Our March 2023 Newsletter
Find the letter – here
---
Feb 25, 2023 – CAM Meets Mike At "Welcome Back Doug" Rally at Queens Park.
Climate Action Muskoka (CAM) contingent at Queen's Park to 'Welcome' Back Doug Ford to legislature.. Cold and miserable but thousands there. Kim, Paul, Len, Sue and Jan from Muskoka.
Hear Mike Speak at the rally – here
---
Feb 21, 2023 – I've listened, and I'm staying as GPO leader
---
---
Ontario Green's Have a Plan
Decades of neglect from successive governments has led to long wait times and inadequate funding and support. Mental health touches all of our lives and proper care should be available for everyone. Ontario Greens have a plan to make mental health care more Affordable, Accessible and Comprehensive, so that anyone in this province can get the care that they need.
In Ontario it is increasingly difficult for many people to find affordable housing options. This needs to change. We have an ambitious, practical roadmap to building livable and affordable communities where everyone has a great place to live. Our plan is based on three pillars: Connected. Affordable. Sustainable.
Climate change is a global crisis that is far-reaching and impacts every aspect of our lives in Ontario, from increasing floods, to severe storms, or record heat waves. Our climate plan provides an honest and practical roadmap to achieving net-zero. It's a guide to an Ontario with clean energy, comfortable places to live, ways to get around, new businesses, careers and better jobs.
---
DONATE HERE — Donate directly to the Parry Sound Muskoka Green Party.
VISIT GPO.ca — Be a part of People Powered Change.