Next Saturday, February 5th, join us for our first Super Saturday of 2022.
With only 125 days left until the next election, Greens across the province will be out talking directly with voters for our first province-wide day of action! Matt Richter and the Parry Sound-Muskoka Greens will be joined by Ontario Greens Leader, Mike Schreiner, as they reach out and listen to voters talk about the issues that mean the most to them.
We will be having teams of volunteers in Gravenhurst, Bracebridge, Parry Sound, and Huntsville knocking on doors from 10 am to 12 pm. This will be followed by a virtual Volunteer Appreciation trivia and Q&A opportunity on zoom from 1:30 pm to 3 pm.
Join Matt Richter and Mike Schreiner as they knock on doors in Parry Sound- Muskoka and then warm up by joining our virtual Trivia. Bring your knowledge and questions!
First-time canvassers will be given training and paired with an experienced canvasser. We have a protocol in place to protect our volunteers and all canvassers must comply with the GPO Vaccination policy.
To sign up for a foot canvass, please click on the town name: Gravenhurst, Bracebridge, Parry Sound, and Huntsville.
Not sure about foot canvassing yet, and want to hear more about other volunteer opportunities? Click learn more and our Volunteer Coordinator, Linda, would be happy to talk to you!
---
January 8, 2022 – Phone Canvassing Party 03:00 to 05:00 pm
How do you elect Matt Richter just 148 days from now?
January 5, 2022
Due to the current lockdown, you turn this:
Into this: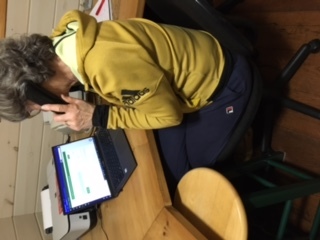 One hour of your time can amplify your support to up to 25 other potential supporters and volunteers. Sign up below to make calls with us this Saturday afternoon from 3-5 pm. We will show you how easy it is!
Elections are won by person to person contact. NO POLICY EXPERTISE IS REQUIRED. You are the friendly voices calling to help Matt reach out to everyone. Let's do it together, yet apart, at least for the next few weeks.
Linda Mathers, Volunteer Coordinator
Matt Richter for 2022
---
November 27th – Super Saturday with Mike Schreiner
On November 27th, 2021, Greens all over the province of Ontario will be taking part in a Super Saturday day of action. There will be door-knocking and phone-canvassing all over the province.
Mike Schreiner will be joining Matt Richter and the Parry Sound Muskoka Greens in Bracebridge for a full day of canvassing and fun! This will be a great opportunity to meet Mike and Matt and give canvasing a try. All experience levels are welcome.
We will be knocking on doors from 9:30 to 4 pm with a break for lunch and a meet and greet with Mike. Due to COVID protocols, this event is only open to those who are vaccinated.
What: Super Saturday with Mike Schreiner and Matt Richter
When: Saturday, November 27th, 2021 from 9:30 – 4:00 pm
Where: Bracebridge United Church Basement
Details: Lunch will be provided to all volunteers
Please register in advance. We'd love to have you join us all day. If you'd like to join for both, please RSVP for both!
---
October and November – Outreach events 
Sign up to join us by clicking on the dates below.
Phone canvassing parties on Zoom. Meet online at 6:30 p.m. for calls from 6:45 to 8:15: You will receive the Zoom link the morning of our calling party.
Thursdays: October 21, November 11. November 25
Wednesdays October 27, November 3, November 17
Foot canvassing Saturday mornings from 9:45 a.m. until noon. (We will be safely distanced at the doors and will partner beginners with experienced door knockers. You will be amazed how satisfying it is to connect with people).
Huntsville October 23 – Meet at Huntsville High School lower parking lot ***Come out and meet Maureen and Matt who will kick off this first event***
Bracebridge October 30 – Meet at Bracebridge High School parking lot
Gravenhurst October 30 – Meet at Lions Pavilion by the Segwun
Parry Sound November 13 – Meet at Mary St Centre
Huntsville November 20 – Meet at Pine Glen Public School
Burk's Falls November 27 – Meet at Stan Darling Park/The Village Green
Lots of training. Lots of support. Lots of satisfaction and fun. Volunteers are the key to our success. We all want a better future for our kids and grandkids. Now is the time to get involved and take action to make that happen. Let's work with Matt and his team and get the job done, together.
With appreciation,
Linda Mathers
Volunteer Coordinator Parry Sound Muskoka Green Party of Ontario